» Flat Panel Display Systems > FPD Laser Glass Scribing Systems > Glass Wafer Cutting - F300
F300 Glass Wafer Cutting System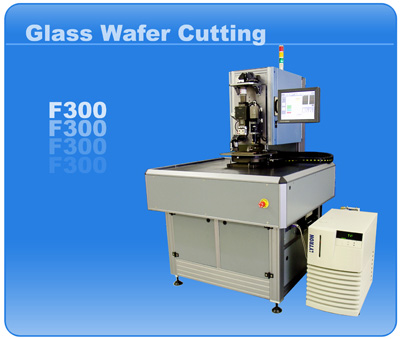 The F300 Glass Disk Cutting Machine combines stationary laser and dual optical systems with a single rotation and glass holding system. This allows for highly accurate cutting with nearly perfect concentricity.
This machine can be configured to cut many different materials: glass, Crystalline Quartz, Sapphire, Silicon, Silicon on glass, Lithium Niobate, Lithium Tantilate, or many others.
Pricing has been broken down into components to allow users to customize machine capabilities for their specific needs without incurring unnecessary costs.
Requirements beyond those listed below can be quoted on an as needed basis.
Call our office if you need any assistance determining which capabilities best suit you needs.
F300 Product Capabilities
F300

Maximum Substrate Size

320x320 mm

Glass Thickness (Standard)

0.5 – 1.5 mm

Glass Thickness (Optional Max)

6 mm

Cutting Speed

30 - 150 mm/s

Processing Accuracy

+/- 0.06 mm

Average Edge Roughness (Ra)

< 0.032 um

Scribe Chips

None
F300 Machine and Facility Specifications.
F300

Laser Equipment (standard)

Sealed CO2 Laser @ 90 W

Machine Length

838 mm

Machine Width

1239 mm

Machine Height

1718 mm (plus 362 mm safety light)

Weight

350 kg

Operating Temperature

+18 to +25o C

Relative Humidity

40 - 80% noncondensing

Electrical Requirements

3 x 110/380 V. 50 -60 Hz, 8 kVA.

Clean Dry Air

<20% humidity at 18o +/- 1o C, 8 ATM

Chilled Clean Dry Air

<20% humidity at 4o +/- 1o C, 4 ATM

Chilled Water

18o +/- 1o C
Specifications subject to change without notice.
Applications Search:


Fonon DSS | Laser Videos | Laser Marking & Engraving | Flat Panel Display | Semiconductor | Applications | Employment | About | Contact Us | Site Map

Copyright © 2022 Fonon Display and Semiconductor Systems, LLC