» Flat Panel Display Systems > OEM Glass Scribing Kits
F250GL OEM Glass Scribing Kit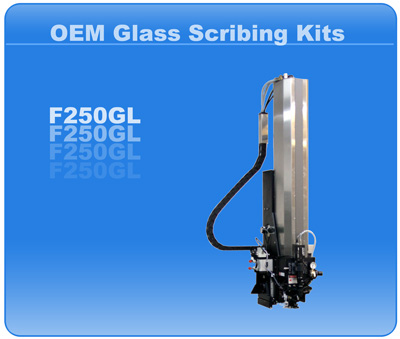 System Description
The Laser Separation tool for the Flat Panel Display Industry is a part of the new line of OEM products from Fonon DSS. It combines a proprietary laser source and a set of components, PCB's, mechanical assemblies, software and technology licenses which can be integrated into an in-line or stand alone laser glass cutting system.
The system is based on ZWLCT® (Zero Width Laser Cutting Technology™)This method splits materials at the molecular level with tremendous speed, no material loss and no chips or other debris associated with conventional scribe and break techniques.
Fonon DSS has taken this method to the next level with a completely new discovery called Fantom™ Technology and utilizes the F250GL Sealed CO2 Laser with Intracavity Mode Selective resonator to achieve laser beam properties necessary for reliable industrial scribing of glass substrates.
New & Unique Features
System is equipped with a patented laser head specially designed for ZWLCT®
The laser emits a specific frequency and operates ina special mode that enhances the glass seperation process
Laser auto focus mechanism (Optional)
Remote Internet monitoring and diagnostics
Maintenance free optical path
Customized hold-down fixtures
Process Capabilities
Capable of scribing IR coated glass without any limitations.
Capable of scribing of any type of display glass (except quartz) without realignment.
Singulation line straightness measured in microns and depends strictly on the motion system
Generates no chips or glass particles
Does not overheat the glass surface; no long term edge micro fracturing
Ability to handle the miniature substrates and micro displays
Material: Glass 0.7 mm thick max
Ability to scribe on the Holding tape: standard low tack, thermal, or UV
Advantages for Users
Low cost solution for precision glass dicing. (Priced the same as or less than precision mechanical scribers).
Reduced training level requirements for operators
Eliminates Edge Grinding & Cleaning Line
Small footprint: (Reduced space for Laser Scribing & Breaking)
Built in modular power supply, amplifiers, PC control and high-voltage electronics. (Easy to service)
Produces glass panels 3 to 5 times mechanically stronger without additional edge processing
Modular design utilizes standard components for easier service
"Plug-n-play" characteristics give the system ease of installation and quick start-up times for equipment builders
The system includes: fully documented operation manual, site plan drawings, recommended spare parts list, cost sheet and setup tool kit
Lower COO (Cost of Ownership). No gas consumption, no optical alignment, no optics cleaning and no special requirements for quality of facility
Internet ready
The whole process can operate inside a clean room


Fonon DSS | Laser Videos | Laser Marking & Engraving | Flat Panel Display | Semiconductor | Applications | Employment | About | Contact Us | Site Map

Copyright © 2023 Fonon Display and Semiconductor Systems, LLC