F470GF: Integrated Scriber & Breaker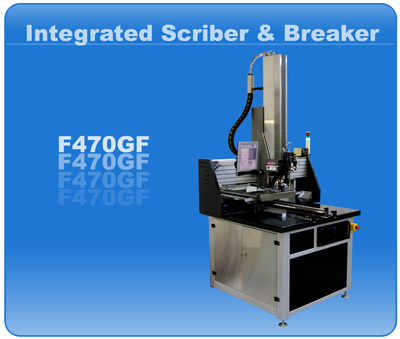 The F470GF is the first in the world laser scribing system with simultaneous scribe and break capabilities.
A state of the art new generation of glass scribing systems, it can operate as a standalone or a component for an inline system.
The system is based on Fantom™ technology and built from modern components allowing modular replacement and enhanced reliability.
The system does not have any external laser optics and does not require any field alignment.
Direct drive 4 axis motion system and vision image recognition insures smooth integration into any manufacturing line.
Capabilities
Applications include but not limited to singulation of Flat Panel Displays, new generation of miniature TFT LCD, OLED from single sided and double layer panels.
Maximum substrate size is 500 x 500 mm.
System has:
Remote monitoring
Clean room level 10.000 and 1.000
Advanced vacuum holding table
Pre-wired for inline integration
Applications Search: