SBM777DC: Ceramic Scriber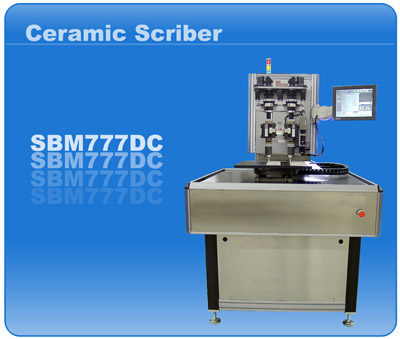 The SBM777DC redesigned general purpose ceramic scribing system is designed and fabricated from modern components allowing modular replacement and enhanced reliability.
Direct drive 4 axis motion system, vision image recognition and advanced vacuum holding table makes it ideal tool for high production volumes.
System can be equipped with CO2 laser and innovative fiber laser for better precision and higher edge quality. (Selection depends on ceramic type)
Economical advantages for users:
Reduced space for Laser Scribing
"Plug-n-play" characteristics give the system ease of installation and quick start-up times.
Remote Internet monitoring and diagnostics.
Programmable Loading and Unloading positions for in line integration.
Large substrate size up to 600 x 600 mm.
It can be equipped with dual heads for increased throughput. Video system will allow automatic machine set up and fiduciary marks recognition for automatic parts alignment.
Applications Search: