» Semiconductor > Coating Removal
FL600 ITO Coating Removal System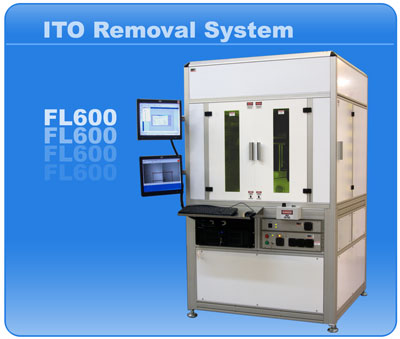 The FL600™ is a basic ITO removal system utilizing proprietary fiber laser technology by Fonon Technology. It performs direct imaging by laser beam for patterning of ITO coated glass and plastics offering flexible, immediate, CAD friendly large area patterning without wet photolithographic processes.

Technology Description:
The FL600 is capable of direct fiber laser patterning on ITO, TCO, TO, anti-reflective coatings on glass and PET plastic film used in the FPD industry, automotive windshields and rear view mirrors, architectural windows, photovoltaic cells, solar panels, and semiconductor applications.
Direct imaging by laser is a single-step, CAD based, dry ablative process replacing photolithographic technology.
Main Features:
Highest ITO removal speed in the industry on glass and plastic substrates at speeds up to 12m/sec
Maximum substrate size – fully scalable up to Generation 8 glass panels
24/7/365 maintenance free operation on conveyer lines or inside clean rooms
Unlimited component size
New & Unique Features:
System is equipped with a new i-Series Fiber Laser head especially designed for cold evaporation of different coatings from brittle and semiconductor materials.
The laser emits a specific frequency and operates in a special mode that enhances the coating removal process.
Laser cuts on film for "Stretch and Remove" technology.
Customized Hold Down Fixtures
No need for cooling system
Applications Search:


Fonon DSS | Laser Videos | Laser Marking & Engraving | Flat Panel Display | Semiconductor | Applications | Employment | About | Contact Us | Site Map

Copyright © 2023 Fonon Display and Semiconductor Systems, LLC