ABS-G4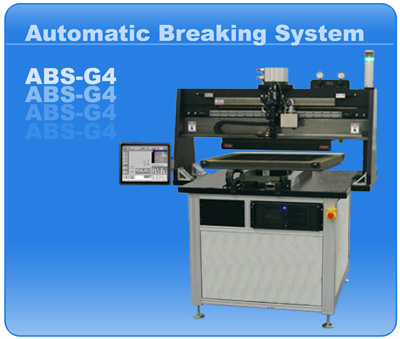 The ABS-G4, a new generation of industrial Automatic Breaking Systems specifically designed for the Flat Panel Display Industry, is matched to Fonon Technology precision Laser Glass Scriber Fantom™ G4.
This system will process up to Generation 4 fully scribed glass panels. It is designed to transport, precision align, and separate the glass panels along the scribe lines, propagating the ZWLCT™ (Zero Width Laser Cutting Technology™) laser scribe all the way through the glass.
This breaking system complements the Fantom™ G4 Laser Scribing System with compatible software control language, files, and operational formats.
ABS-G4 Automatic Breaking System Features
Breaking Capabilities
Direct Drive glass moving system
Automatic vision/image recognition system with dual CCD video cameras
Advanced mathematics alignment algorithm for maximum alignment accuracy to fiduciary (recognition marks)
Touch screen interface
Built in product parts library, breaking topology, breaking parameters
Topology files – unlimited storage with 2 topology files loaded at the same time for TFT and CF sides
Vision System
Direct Drive Vision System axis
Type: Pattern Recognition with automatic alignment
Two-level Magnification (high/low magnification)
Optical zoom 0.5 to 2.0
Illumination: Coaxial fiber-coupled light source
Advanced mathematics alignment algorithm for maximum alignment accuracy to fiduciary (recognition marks)
Motion System
Type X/Y/F-direct drive servo platform
Working area 800 x 800 mm
Maximum stroke (X x Y) 500 x 500 mm
Z axis – precision linear bearing with micro stepping ball screw drive
Accuracy +- 10µm
Repeatability +- 1 µm
Applications Search: