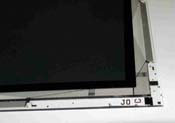 Application #132



Process: TFT LCD Scribing
Material: TFT LCD
Industry: FPD

Detailed Application View

Application Details:

From CF side 16" TFT LCD, 2 x 0.7 mm were cut on with combined scribe/break method in one pass. TFT side was scribed but not broken. Breaking of TFT side was done on the stand along breaker to achieve the final separation of the panel. ITO coated and Chromium Coated glass was scribed from glass side and broken manually.