Fonon Display and Semiconductors' Update on TFT LCDs
As of 2008, all color LCD TVs and monitors use thin-film transistor liquid crystal displays (TFT LCDs). Coincidently, the best known application of thin-film transistors is in TFT LCDs. In this process, transistors are embedded within the panel itself, reducing crosstalk between pixels and improving image stability. The most beneficial aspect of TFT technology is a separate transistor for each pixel on the display. As each transistor is small, the amount of charges essential for controlling it also small. This allows for very fast re-drawing of the display. Prior to TFT, passive matrix LCD displays could not keep up with fast moving images. A mouse dragged across the screen, for example, from point A to point B, would disappear between the two points. A TFT monitor can track the mouse, resulting in a display that can be used for video, gaming and all forms of multimedia.
The Future of TFT LCDs
As the world still struggles to determine if we're in a recession, depression or none of the above, some industries are showing signs that the worst of whatever ails us, although may not be completely over, is starting to show signs of improvement. The flat panel display industry, for one, seems to have reached the bottom of the cycle back in February 2009 and now the latest survey results are showing some recovery.
According to the March 2009 DisplaySearch report, shipments of large-area TFT LCD panels reached 37.9 million units, showing strong month over month growth of 29%. Additionally, large-area TFT LCD revenues reached $3.9 billion, up 31% month over month and all three major applications—notebook PC, monitor and TV—showed over 20% month over month growth, and total shipments were the highest in six months.
"As the FPD industry starts to rebound, businesses should be looking at using technology to improve their manufacturing operations during these tough economic times so that when the market does fully recover – they're already ahead of the game." This is according to Maureen McHale the Corporate Marketing and Public Relations Manager for Fonon Display and Semiconductor Systems (Fonon DSS). "This is a time for innovative thinking and for manufacturers to take advantage of the current economic situation by improving processes, updating equipment and implementing cost saving technology," she explained.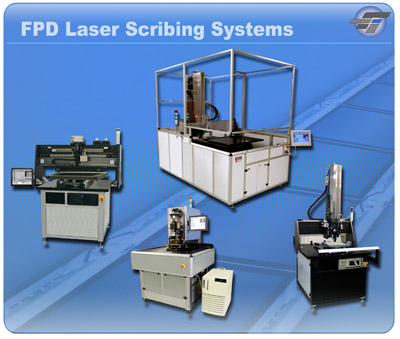 Laser Equipment for the FPD Industry
Fonon DSS has developed laser equipment for the flat panel display (FPD) industry which is used in helping to create very thin display screens for portable computers, T.V. screens, radio faces, and most LCD technology. Flat panel display technology has become increasing popular over other existing technologies because the display is thinner, lightweight and more power efficient. Manufacturing this high tech product requires equally high tech equipment like fiber laser systems which are not only able to produce high quality results, they can lower manufacturing costs and increase throughput.
Fonon DSS' turnkey equipment is designed and built utilizing cutting-edge technology and patented methods including Zero Width Laser Cutting Technology (ZWLCT®). This new industrial method uses a laser controlled power density profile on the material surface to generate the subsurface forces greater than intermolecular connections. The methodology utilizes a non-contact laser induced internal stress to produce a controlled separation. Since the technique is non-contact, the surface degradation associated with mechanical scribe and break is eliminated, thus removing the need for additional cleaning of the glass. Yield loss as a result of particulate damage is also greatly reduced. This technique has the highest level of precision known to man and it has dramatically improved the substrate separation process, specifically for latest generations (Gen 6, 7, and 8) glass panels for Flat Panel Display (FPD) manufacturing.
In order to utilize the patented ZWLCT® for laser scribing glass for the FPD industry, Fonon DSS has incorporated this technology into the latest innovation, the Fantom™ product line. These stand-alone systems have been built for scribing TFT LCD panels, utilizing a C3 Laser™ Integrated Glass Scribing Laser Module. Fonon DSS' Fantom™ laser scribers are designed to increase efficiency providing higher throughput rates and continually proving to be the more cost effective solution.
Discover the Fantom™ Advantages:
The Fantom™ product line offers many advantages over traditional, more costly methods as outlined here:
1) In comparison to the older method of glass cutting, the cost of ZWLCT® technology continues to decrease, while mechanical scribing systems increase. As panel sizes increase the cost of mechanical equipment grows exponentially with each increase in panel size, while laser equipment costs only increase linearly. This change in market ROI makes Fonon DSS' laser scribers and ZWLCT® methods the clear choice when comparing cost factors.
2) Fonon's patented glass scribing technology surpasses the older mechanical technology used to cut glass and other brittle materials for the electronic and semiconductor industries. Conventional technology creates vent cracks by stressing the substrate, which in turn creates surface damage and lateral cracks, resulting in particulate generation, and yield loss. It is this loss, plus the purchase cost for mechanical scribing and breaking systems, that has become the significant contributor to the retail cost of modern flat panel displays.
3) The Fantom™ scribing systems utilize ZWLCT® which allows scribing applications to be processed with tremendous speed, no material loss, and no chips or other debris associated with conventional scribe and break techniques thereby eliminating the cleaning and grinding line.
Enhancements are continually being made to ZWLCT® methods and the Fantom™ line - growing and changing with the industry, allowing manufacturers to reduce costs and increase production. For more information about Fonon DSS' Fantom™ laser scribing systems and more laser equipment, please visit http://www.fonondss.com or call 407-829-2613.
Fonon DSS
, the cutting edge developer of state-of-the-art, laser scribing, dicing, marking, coating removal, direct patterning, and photo mask repair solutions for the Flat Panel Display (FPD), Semiconductor, Photovoltaic and Electronics industries throughout the world.
Media Contact:
Ryan Semmer

rsemmer@fonondss.com
407-829-2613 x271